We Celebrate, Connect and Protect.
The jewel in Sydney's crown is unequivocally her twinkling harbour. Imagine it's 6am, summertime, and the sun is just starting to rise behind the Sydney Harbour Bridge. You're on board, cruising quietly with sails up, as a pod of six dolphins start playing in the water just ahead. This was our first week in Sydney as residents, and needless to say – we've been hooked ever since.
Working on the water is our passion, and your celebrations are important to us. Whether it's your birthday, anniversary or just a catch-up with friends, our business is to make it extra special. The harbour does most of the work for us though. Beaches, national parks, clear waters and iconic structures – Sydney won't disappoint!
Also, we like to party sustainably. Booking with us helps to protect our harbour and oceans as we reduce waste, invest responsibly and always give a little back.

Who we are
Marc and Lily met in 2009 in a bustling marina in the British Virgin Islands. They were both working professionally on classic sailing yachts, but what drew them together for the first time was actually their love of bicycles.
Marc has cycled from Scotland to China. Lily has cycled across Europe and North America. They really love bikes, and all forms of sustainable travel.
Together, Marc and Lily started One Ocean Sailing in 2015 to share their passion for adventure with the world. The first year saw them hosting charters across the Pacific on their original boat "Projection". Ten countries and twelve thousand nautical miles later they anchored down in Australia. It didn't take long to fall in love with Sydney Harbour. They purchased "One Ocean" and have been running sustainable harbour cruises ever since! In 2019 they welcomed the first new crew-member, their daughter Luna Blue, followed closely by Iluka Keith, their son, in 2021.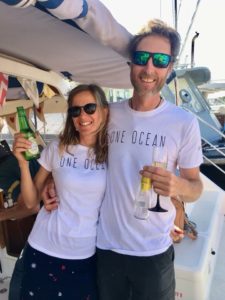 About Lily
Lily grew up on boats and on the water, as a child born and bred in Vanuatu. Her parents instilled in her a thirst for adventure, and at 21, she left Australia with wanderlust. She bought her very first sailboat at 24 in LA, and after an extensive refit, skippered it home to Brisbane, Australia. Her professional life has been messing around with boats or bicycles, with her skills ranging from mechanic to gourmet chef. She is an experienced captain with over 30,000 nautical miles under her belt, and Master 5/MED2 qualifications.

About Marc
Marc, a French Canadian, picked up sailing over a decade ago during a world tour using only natural power. After having cycled from Scotland to China, he decided to make sailing his lifestyle and took to work professionally on boats throughout the world. He is an experienced skipper and holds RYA Yachtmaster Ocean and Master 5/MED2 qualifications. Marc also has a mind for languages, being fluent in 3 and with a good grasp of Russian and Mandarin.

(Visited 3,422 times, 1 visits today)