We Celebrate, Connect and Protect.
The jewel in Sydney's crown is unequivocally her twinkling harbour. Imagine it's 6am, summertime, and the sun is just starting to rise behind the Sydney Harbour Bridge. You're on board, cruising quietly with sails up, as a pod of six dolphins start playing in the water just ahead. This was our first week in Sydney as residents, and needless to say – we've been hooked ever since.
Working on the water is our passion, and your celebrations are important to us. Whether it's your birthday, anniversary or just a catch-up with friends, our business is to make it extra special. The harbour does most of the work for us though. Beaches, national parks, clear waters and iconic structures – Sydney won't disappoint!
Also, we like to party sustainably. Booking with us helps to protect our harbour and oceans as we reduce waste, invest responsibly and always give a little back.

About Lily
Lily grew up on boats and on the water, as a child born and bred in Vanuatu. Her parents instilled in her a thirst for adventure, and at 21, she left Australia with wanderlust. She bought her very first sailboat at 24 in LA, and after an extensive refit, skippered it home to Brisbane, Australia.
Her professional life has been messing around with boats or bicycles, with her skills ranging from mechanic to gourmet chef. She is an experienced captain with over 30,000 nautical miles under her belt, and Master 5/MED2 qualifications. 
Lily founded One Ocean Sailing in 2015 to share her passion for adventure and to make the ocean her livelihood. She is also the mother of two young children so always juggling the work life balance. Don't be surprised if you hear giggles during a business phone call!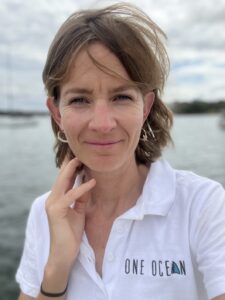 (Visited 3,627 times, 1 visits today)